NEUROLOGY
Latest Innovation in Quantitative Brain Analysis

A one-click workflow
Quantification and visualization for a confident diagnosis
Hermia Neurology has a fully automated workflow for the reorientation of brain scans, quantification and localization of abnormal perfusion and receptor regions. It fits and compares patient images to three-dimensional reference templates created from images of normal studies. 
Fast and accurate, the application provides physicians with all necessary quantification and visualization to support a confident diagnosis.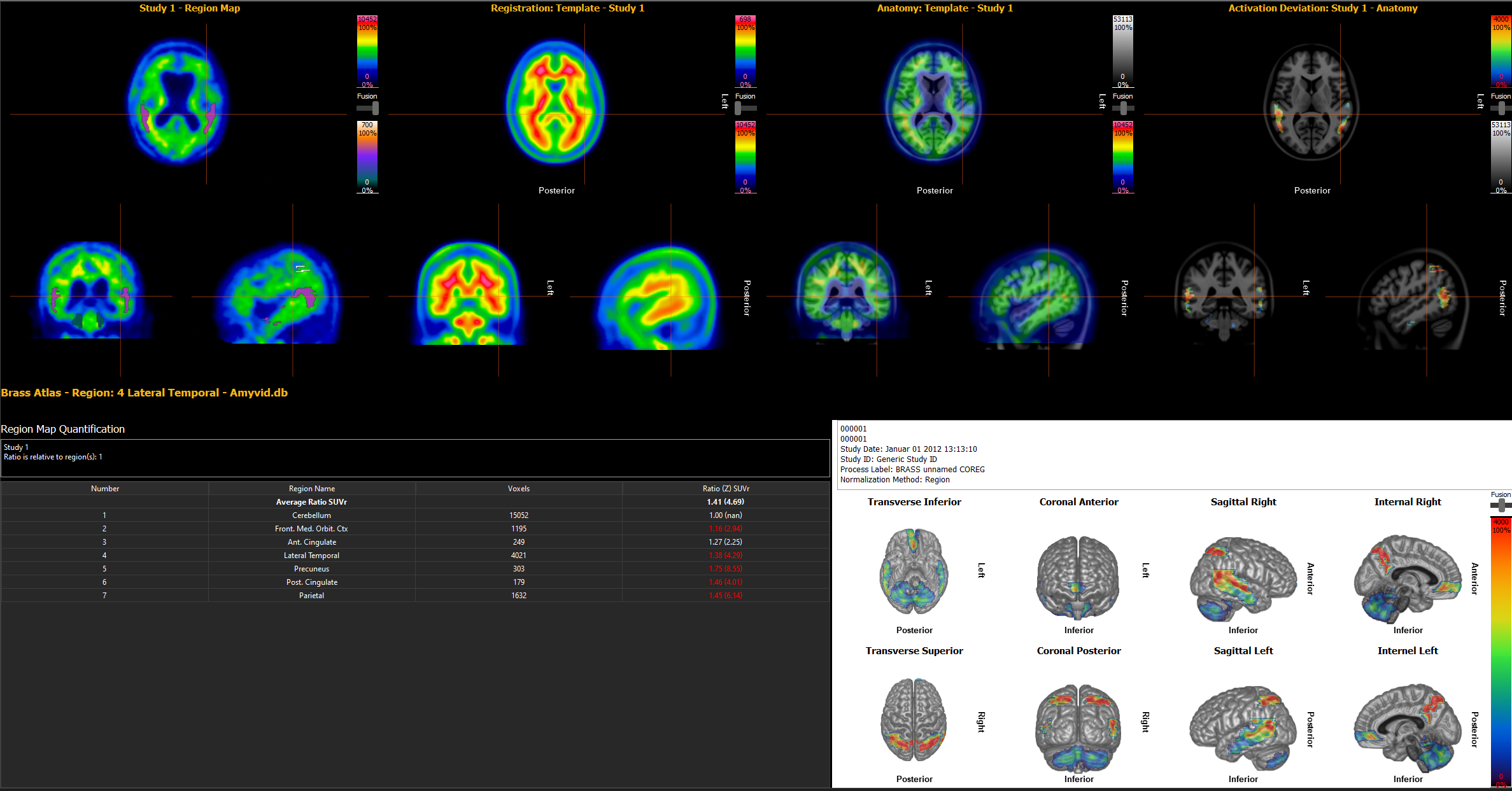 Fully automatic processing, visualization and quantification of brain scans

Data is processed, quantified, and displayed within seconds

Reference databases for all common SPECT and PET tracers

Personalized comparison with a normal population

Brain Region Atlas and Z-score Maps

Localization of abnormal regions and complete statistical analysis

3D Surface projection

Easy to interpret results for your referring neurologist or family physician
Demonstration video
Hermia Neurology

Fully automatic processing, visualization and quantification of brain scans
AUTOMATIC AND ACCURATE DEFORMABLE REGISTRATION 
At the core of the application is an advanced registration algorithm that brings the patient's brain into alignment with the chosen normal template. The registration algorithm is a proven, fully automatic, deformable registration method utilizing a novel adaptive principle-component template to accurately align scans for quantitative analysis (1).
REFERENCE DATABASES FOR ALL COMMON SPECT AND PET TRACERS
The neurology application from Hermes Medical Solutions features normal reference databases for all common tracers:  FDG, Amyloid and cerebral perfusion SPECT (123I-FP-CIT, 99mTc-ECD, 99mTc-HMPA0). This provides personalized comparisons with healthy controls.

LOCALIZATION OF ABNORMAL REGIONS AND COMPLETE STATISTICAL ANALYSIS 
Results can be reported for pre-defined anatomical regions, or as a z-score map showing you the exact localization of abnormal areas. Hermia Neurology provides both voxel-based and region-based analysis of brain scans utilizing an integrated brain atlas as well as 3D stereotactic surface projections.

Voxel-based analysis performs voxel-by-voxel comparison of the patient brain scan with a template of healthy controls. Areas of statistically significant difference from normal are visualized as color coded overlays.

Region-based analysis provides quantification of brain anatomical regions with statistics calculated on a region-by-region basis. The patient's regional statistics are compared to those from healthy controls and regional z-scores are presented in a table.
EASY TO INTERPRET 3D SURFACE PROJECTION FOR REFERRING NEUROLOGIST
3D stereotactic surface projections allow for easy understanding of results for your referring neurologist or family physician, as well as facilitating patient communication. It is also possible to fuse an externally acquired patient MR scan with the functional deviation image for anatomical guidance.
Get in touch
Let's start the discussion
A complete offering
To support all your clinical workflows
Browse to read more about all the many possibilities offered by Hermia– our ALL-IN-ONE state-of-the-art software suite. You can pick and choose the specialities and tools adapted to your current clinical needs and scale up whenever new possibilities arise.