Voxel dosimetry
Personalized dosimetry in minutes
Each patient responds differently to treatment, and serial radionuclide imaging provides patient specific information about the individual nuclide kinetics in tumors and normal organs after an administered dose.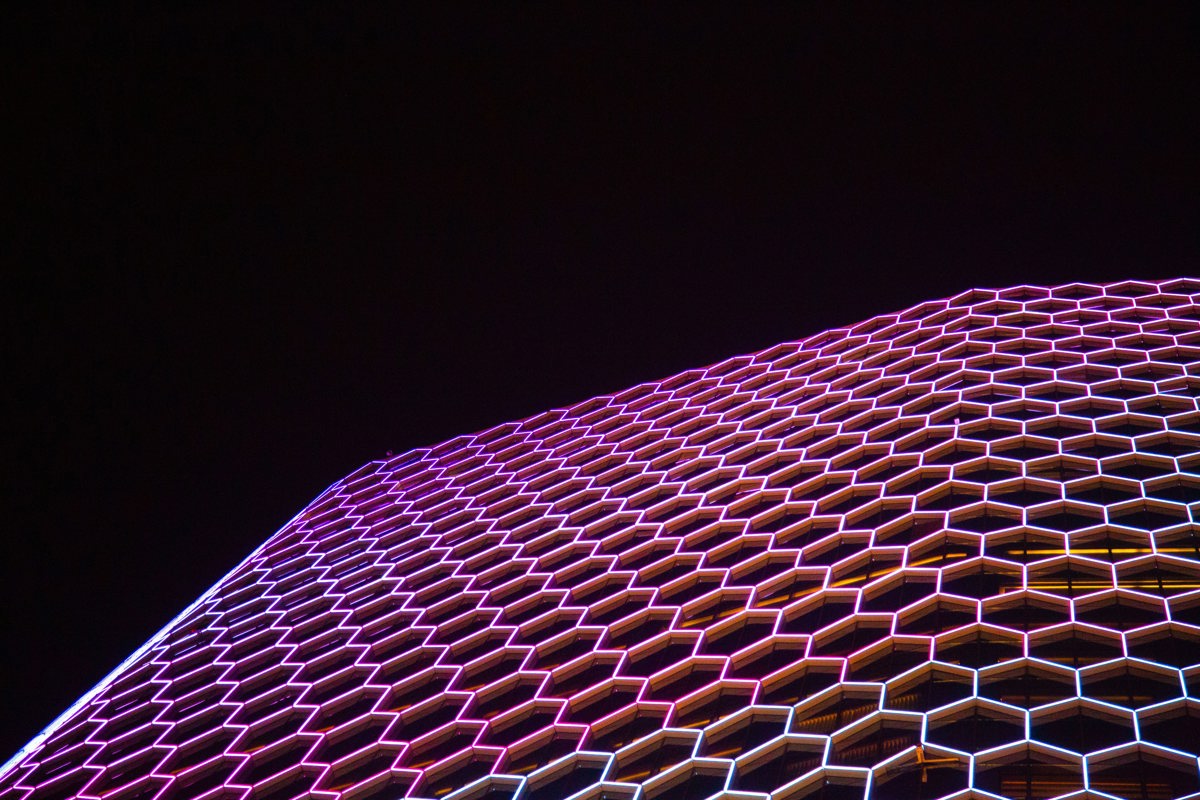 CE-marked and approved by FDA & Health Canada
The most complete voxel dosimetry software on the market
Voxel dosimetry™ is CE marked and has 510(k) clearance for wide range of therapy and imaging isotopes* - making it the only complete voxel dosimetry software on the market suitable for personalized dosimetry.
ONE WORKFLOW FOR ALL YOUR DOSIMETRY WORK
Process DICOM images from all camera manufacturers using the same workflow with automatic alignment  of multiple quantitative SPECT/CT or PET/CT time points. Cumulated activity in each voxel is calculated and a Monte Carlo algorithm simulates photon absorption and scatter through the patient's CT to calculate dose distribution over the entire field of view. It focuses on accuracy, providing superior results to s-voxel or dose kernel approximation methods.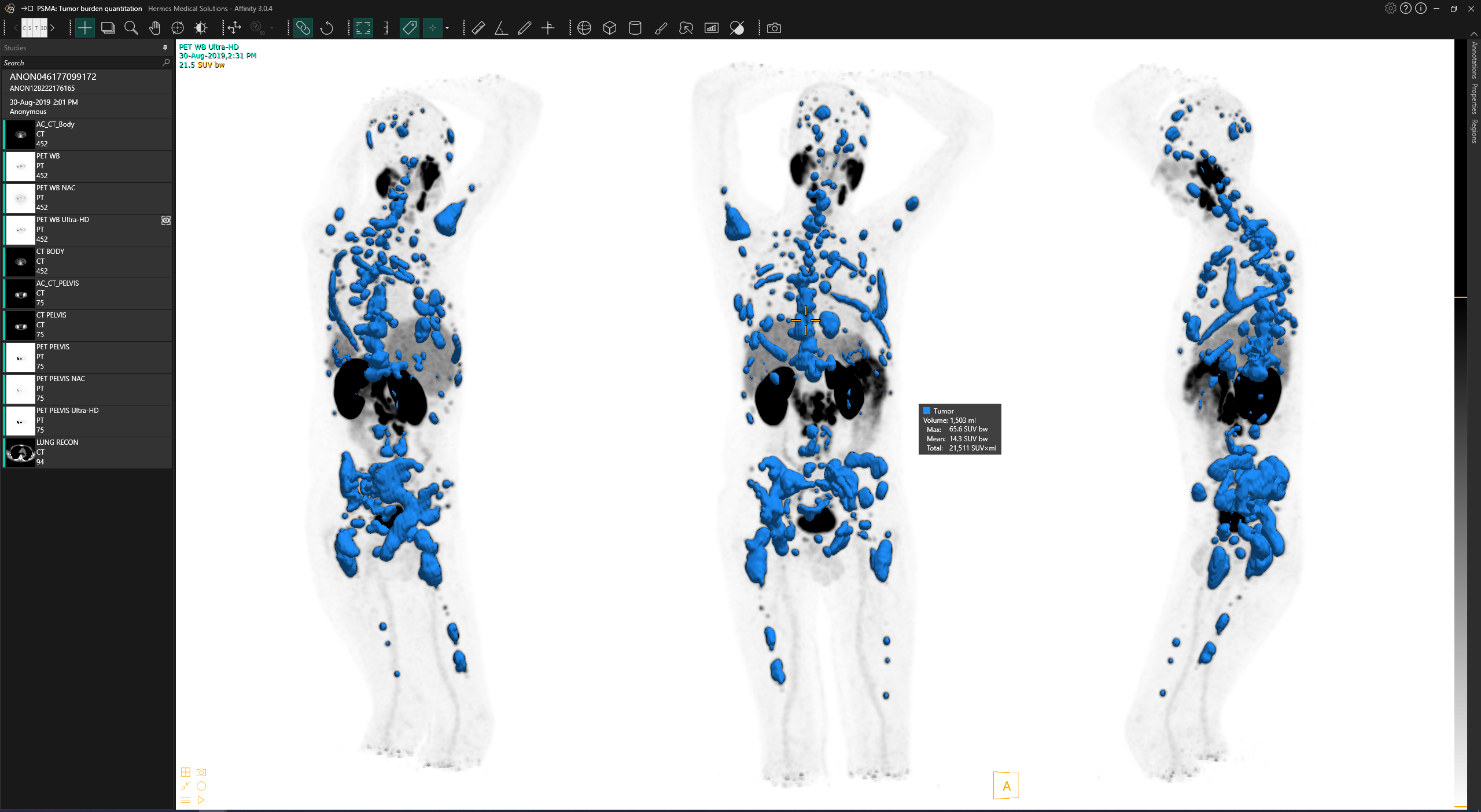 *In the US, the Voxel Dosimetry™ is only intended for calculating dose for FDA approved radiopharmaceuticals for any clinical purpose, and calculation of unapproved drugs can only be used for research purpose.
Pure theranostic approach

Plan and verify dose distribution with full flexibility in imaging and therapy radionuclides. Support for: Ga-68; Ho-166; ln-111; l-123; l-131; Lu-177; Ra-223; Tc-99m; Y-90; Zr-89

Validated Monte Carlo Algorithm

Extensive clinical validation of the accuracy of the dose results in patients and phantoms is published in peer­ reviewed journals (1-5).


Single time point dosimetry

Hanscheid method (6), effective half-life, and physical half-life assumptions to facilitate dosimetry from a single image time point, improving patient experience and simplifying departmental logistics.



Dose-volume histogram analysis and 3D dose map

Get a detailed understanding of dose distribution in volumes of interest and store dosemaps as DICOM for further and future analysis.
Demonstration video
Hermia Voxel Dosimetry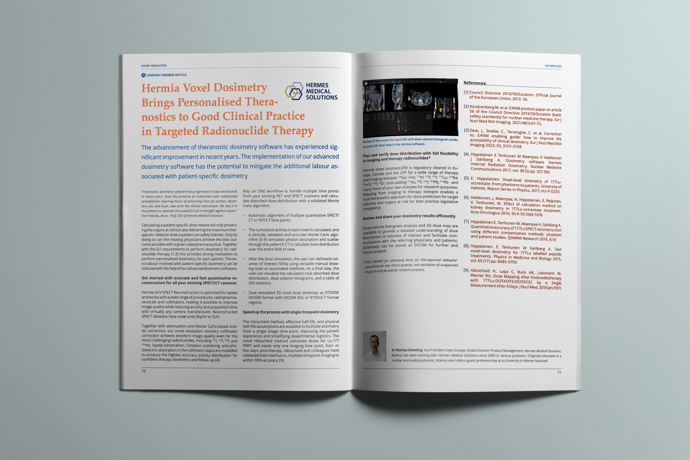 EFOMP Newsletter Autumn 2023
Personalised Theranostics for Good Clinical Practice in RPT
"Theranostic dosimetry software has progressed in leaps and bounds
in recent years. Once the preserve of researchers with complicated
spreadsheets requiring hours of processing time per patient, dosimetry can, and must, now enter the clinical mainstream. We owe it to
the patients to optimise this powerful tool in the fight against cancer."
Tom Francke, Assoc. Prof, CEO of Hermes Medical Solutions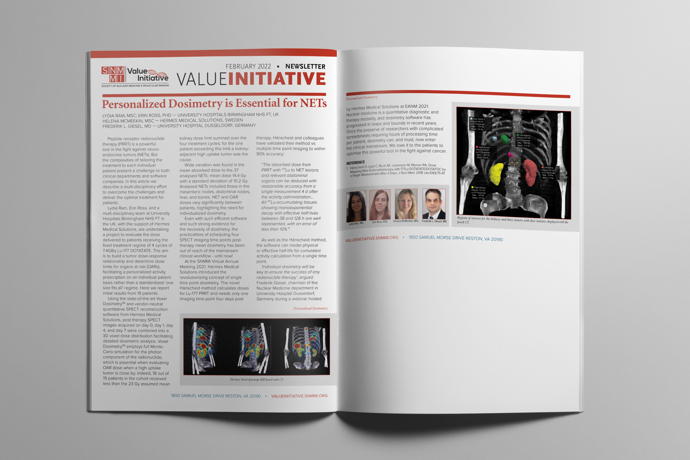 SNMMI Newsletter Article February 2022
Personalized Dosimetry is Essential for NETs
Peptide receptor radionuclide therapy (PRRT) is a powerful tool in the fight against neuro-endocrine tumors (NETs). But the complexities of tailoring the treatment to each individual patient present a challenge to both clinical departments and software companies. In this article we describe a multi-disciplinary effort to overcome the challenges and deliver the optimal treatment for patients.
Educational Series
The Concept of Voxel Based Dosimetry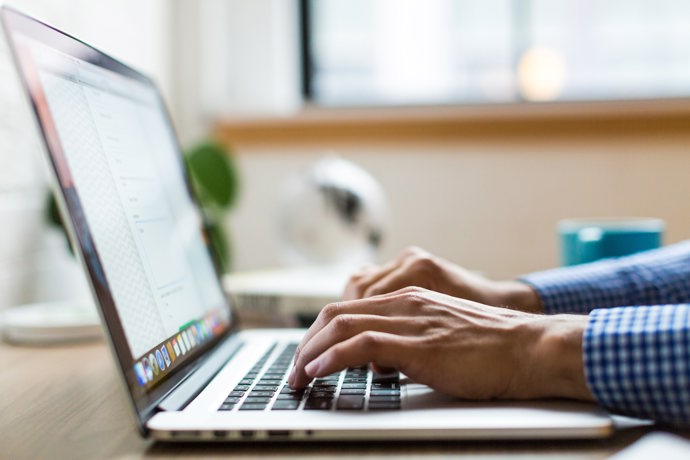 Get in touch
Request more info or a demonstration
We would be happy to show you the many possibilities offered by HERMIA through a demonstration or to answer any questions you might have. 
A complete offering
To support all your clinical workflows
Browse to read more about all the many possibilities offered by Hermia– our ALL-IN-ONE state-of-the-art software suite. You can pick and choose the specialities and tools adapted to your current clinical needs and scale up whenever new possibilities arise.