Hermes Medical Solutions is proud to introduce HERMIA, a new version of its all-in-one molecular imaging software
Hermes Medical Solutions (HMS), global market leader in molecular imaging and dosimetry software solutions, is now introducing HERMIA, a new version of its ALL-IN-ONE Molecular Imaging Software with many exciting functionality updates.
Hermia is a vendor-neutral software platform encompassing state-of-the art functionalities to support all clinical scenarios in nuclear medicine and molecular imaging. Our software is designed with efficiency in mind and leverages, where it makes sense, the power of Artificial Intelligence and automation, together with the latest computing technology, to accelerate your workflow, processing, analyses, and reporting.

"Hermia brings many new advancements and improvements to Molecular Imaging Viewing and Reporting especially within Oncology. Anyone considering using the Hermia software suite can be certain they will have the latest tools and workflows at hand, today and in the future. Regardless of the camera manufacturer they choose to use."
Tom Francke, CEO of Hermes Medical Solutions.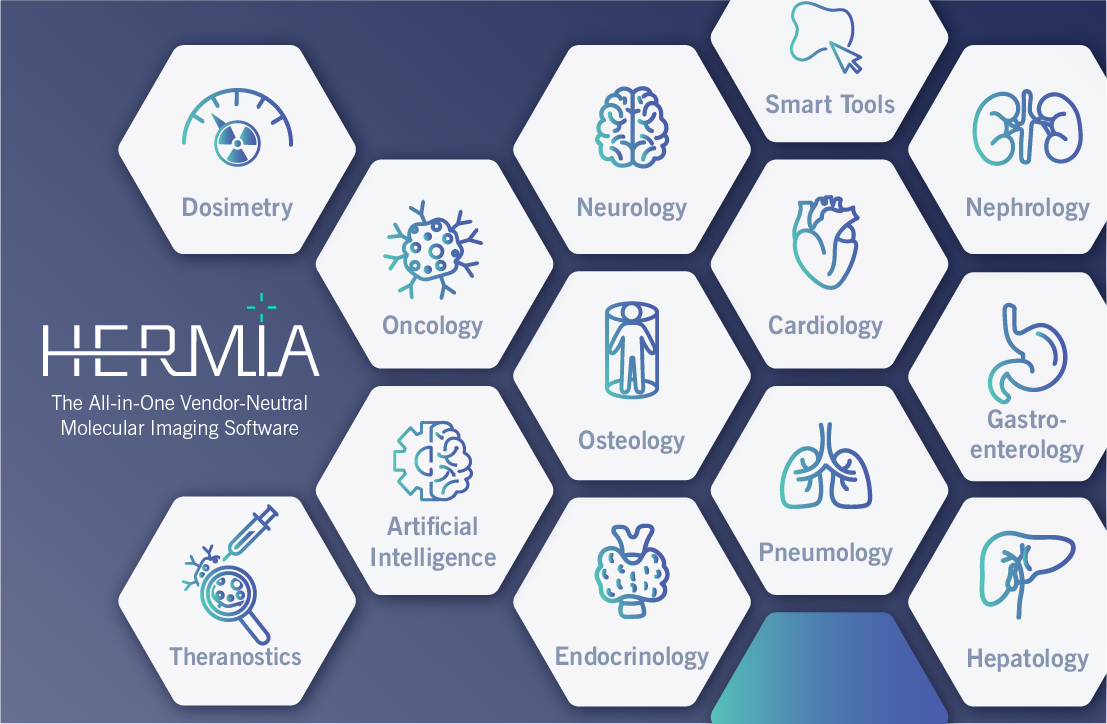 Discover below some of the many highlights from the Hermia Software Suite for Nuclear Medicine and Molecular Imaging.
ONCOLOGY HIGHLIGHTS
Single time point voxel dosimetry
Introducing single time point voxel dosimetry, using the novel Hänscheid method, Hermia makes personalized dosimetry truly accessible in mainstream clinical practice. The wide range of regulatorily approved isotopes, Ga-68; Ho-166; ln-111; I-123; I-131; Lu-177; Ra-223; Tc-99m; Y-90; Zr-89, makes Hermia the software of choice for theranostics. All the latest and most promising isotopes are available as well in research settings.
AI-driven segmentation tools
With one click, users can automatically segment any tumor with high precision as well as separate adjacent tumors into their most natural parts with the assistance of AI algorithms*.
AI-driven lesion tracking
The software automatically identifies, tracks, and compares lesions across multiple time points providing the user with accurate measurements, on how the lesion evolves, such as Metabolic Tumor Volume, Total Tumor Burden, Metabolic Peak, SUVMax, SUVPeak.
Automatic local registration
With the local registration, you can obtain a refined automatic registration of multiple time points focusing on a specific area of interest.
CARDIOLOGY HIGHLIGHTS
AI-driven automatic myocardium detection on SPECT study 
The algorithm detects the myocardium from anterior and left anterior oblique projections and applies triangulation in order to obtain the location of the myocardium in 3D space. The AI-driven detection algorithm* is based on deep learning and uses a convolutional neural network that has been trained with thousands of clinical myocardial perfusion SPECT acquisition examples with known heart positional variants.
OTHER HIGHLIGHTS
Advanced visualization
Featuring the unique Deep Fusion Technology™, Hermia delivers unprecedented clarity for multimodality imaging. Designed to handle multiple time points, bed positions and modalities with ease, it allows any number of fused image layers to support expert reading, bringing new insights for confident diagnosis. And now for the first time, any 3D data from any modality, in any combination including VOIs, can be visualized and analyzed in real-time.
Statistics dashboard
Hermia features a unique dedicated statistics dashboard to visualize all your data in one place, allowing all comparisons and assessments required for a confident diagnosis and reporting. The clinician can choose from a variety of tools such as Statistics Table, Column Chart, Time Activity Curve and Dose Volume Histograms. Results can easily be exported for reporting – making it easy to share valuable insights with the referring physicians and multidisciplinary services.
Customizable workflows
With Hermia, you can carry out routine viewing as well as more complex comparative analysis, quickly and reliably, thanks to fully configurable user-defined workflows and screen layouts.
New processing tools
Adding to its very comprehensive suite of NM tools, Hermia includes SeHCAT (intestine absorption of bile), Lung Liver Shunt (Planar Hepatopulmonary Shunt for Y-90 planning), Heart Mediastinum Ratio and Cardiac Amyloid Ratio application.
*All algorithms are deterministic and have been verified before release.
About Hermes Medical Solutions
Hermes Medical Solutions continuously innovates to enable faster and more personalized diagnosis and therapies in molecular imaging. We empower physicians and healthcare professionals with state-of-the-art software for all clinical scenarios into ONE vendor-neutral platform. Powerful tools enable clinicians to simplify their workflow and keep pace with the fast development of scanners, tracers and therapies in nuclear medicine. The result is improved quality and outcomes for healthcare providers and their patients worldwide.

Contact:
Tom Francke
CEO, Assoc. Prof.
Hermes Medical Solutions AB (HQ)
Strandbergsgatan 16
112 51 Stockholm, Sweden
Tel: +46 70 166 1234
tom.francke@hermesmedical.com